On October 12, Huang Tao, Deputy Secretary of Ningxiang Municipal Party Committee and Mayor, led a team to Hunan Chuangyuan Mining Machinery Co., Ltd. (hereinafter referred to as "Chuangyuan Mining Machinery") for investigation and guidance. Zheng Qi, member of the Party Working Committee and deputy director of the Management Committee of Ningxiang Economic Development Zone, Song Qiang, deputy mayor of Ningxiang, Wang Yi, chairman and general manager of Hunan Chuangyuan, and Fang Xiaoxuan and Tang An, deputy general managers, accompanied the team for investigation.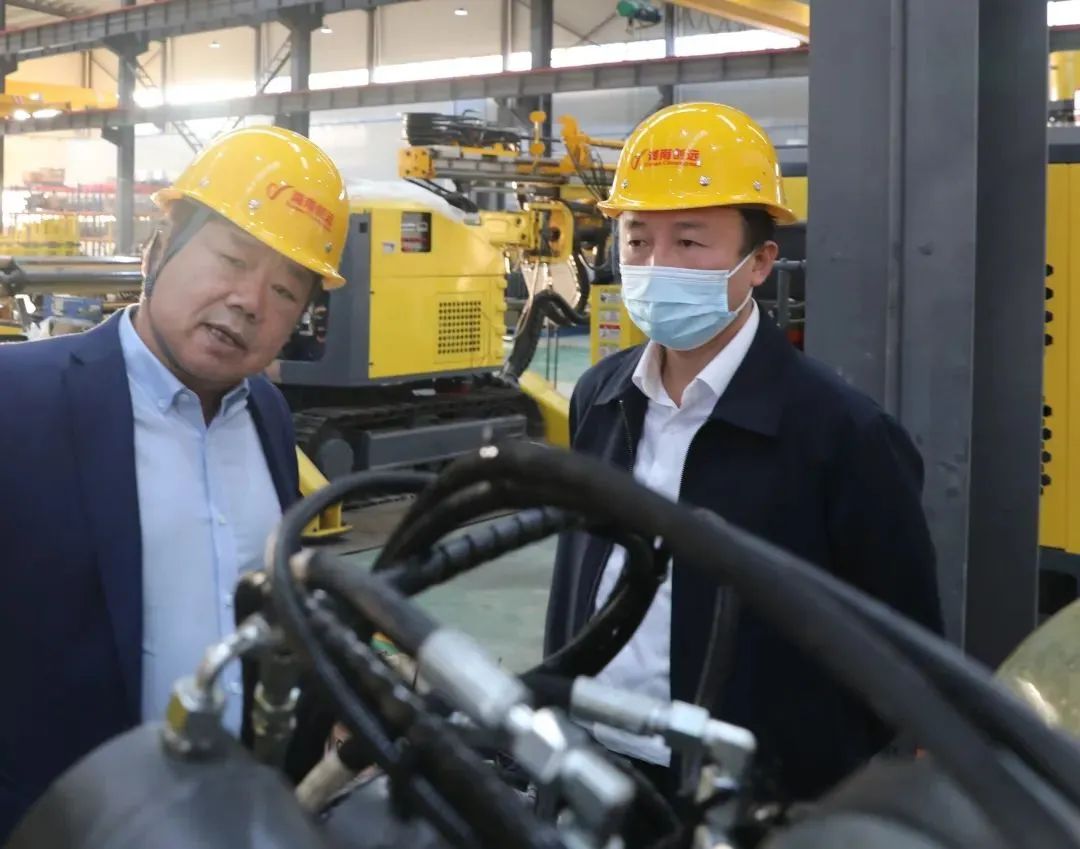 Chuangyuan Mining Machinery Co., Ltd. is a wholly-owned subsidiary of Hunan Chuangyuan High tech Machinery Co., Ltd. ("Hunan Chuangyuan" for short), mainly engaged in the research, development and manufacturing of high-end mining machinery equipment and accessories. In 2018, the company was included in industrial enterprises above designated size, and was awarded the "Top Ten Enterprises" for industrial development in Ningxiang City; In 2022, it will be recognized as a provincial small giant enterprise specializing in specialty and innovation.
Mayor Huang Tao and his delegation went deep into the Chuangyuan mining machine production base, visited the world's first intelligent down the hole drill CY-UMD6i independently developed by the company, the first domestic cutting slot raise drill CY-R40C and other first sets of products, and visited the intelligent mine experience hall.
At the subsequent symposium, Chairman Wang Yi made a detailed report on the development history, market layout, enterprise capacity of Hunan Chuangyuan and the company's achievements in the field of intelligent mining equipment and systematic solutions over the years. Mayor Huang Tao highly appreciated Hunan Chuangyuan's "trinity of technology, equipment and technology" development path, and fully affirmed the company's development achievements.
Mayor Huang Tao said that this survey was on behalf of the Ningxiang Municipal Government to implement the "Double Ten" project and help enterprises to coordinate and solve development problems. The municipal party committee and government will continue to support high-quality enterprises. The government and the park will continue to optimize the business environment, spare no effort to create conditions for the growth of enterprises, help enterprises grow, and contribute to the high-quality development of Ningxiang. At the symposium, Mayor Huang Tao, after listening to the "difficulties" and "blockages" in the company's follow-up development, listing and other aspects, put forward opinions and suggestions to solve the problem, and put forward solutions and measures to solve the problem.
Chairman Wang Yi expressed his sincere thanks to the leaders of Ningxiang Municipal Government and Ningxiang Economic Development Zone Management Committee led by Mayor Huang Tao for their care and support. Hunan Chuangyuan is determined to live up to its high expectations, forge ahead and strive to become a leader in the field of intelligent mining equipment and technology systematic solutions in China.