Hunan Chuangyuan High-tech Machinery Co., Ltd. (hereinafter referred to as "Hunan Chuangyuan") was founded in November 2012. As the only intelligent mine systematic solution service provider integrating mining technology, intelligent equipment and centralized control platform in China, Hunan Chuangyuan adheres to the business philosophy of "quality wins, innovation wins" and shoulders the responsibility of "mining Hunan Chuangyuan High-tech Machinery Co., Ltd. (hereinafter referred to as" Hunan Chuangyuan ") was founded in November 2012, As the only intelligent mine systematic solution service provider integrating mining technology, intelligent equipment and centralized control platform in China, Hunan Chuangyuan adheres to the business philosophy of "winning by quality and innovation", shoulders the corporate mission of "liberating miners from the harsh and high-risk environment", and is committed to promoting and promoting the development of China's advanced intelligent mine equipment cluster to achieve safe, intelligent, green and efficient mining of mines, Digitalization empowers the development of mechanized and intelligent mining and the construction of intelligent mines in China. After more than ten years of persistent pursuit and innovative development, the company is actively integrating into the global mining industry ecology and shining the world.
Hunan Chuangyuan is committed to the goal of "becoming a leader in the field of intelligent mining equipment and technology systematized solutions in China". Based on the strategic goal, the company has introduced a modern management system. At this stage, it has completed the ISO 9001:2015 quality management system certification, GB/T31950 enterprise integrity management system, GB/T31863 performance evaluation service system, GB/T 27922 commodity after-sales service evaluation system, ISO50001-2018 energy management system AAA credit rating, SA8000 social responsibility management system certification, GB/T 23007-2022 integration of standardization and standardization system certification, GB/T 29490-2013 intellectual property management system certification, the company's intellectual property management and other work entered a new level of standardization, systematization and scientization.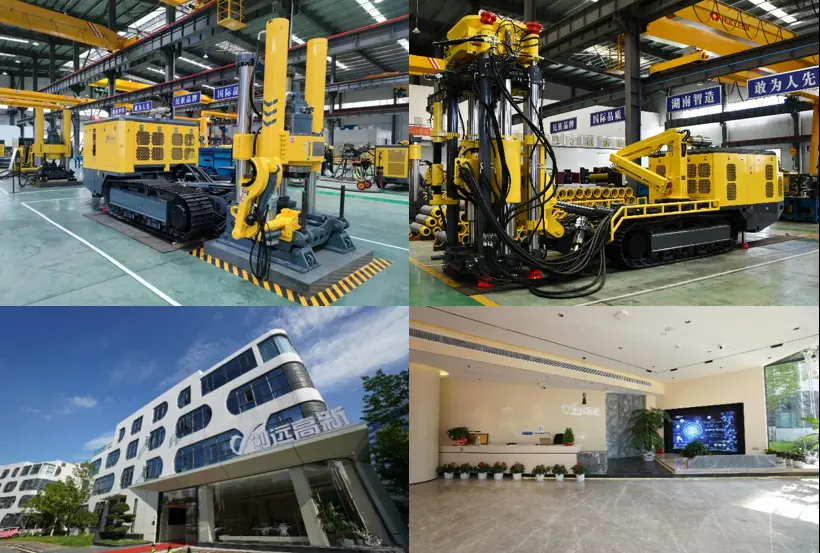 Hunan Chuangyuan implements the concept of "innovation-driven development", continues to increase investment in research and development, establishes school-enterprise scientific research partnerships with Central South University, Northeast University, Beijing University of Science and Technology and other universities, integrates advantageous resources, realizes the deep integration of "production, learning, research and application", promotes the rapid transformation of scientific research achievements into productivity, and accelerates the leapfrog upgrading and development of the mining industry, The company has successively undertaken scientific research projects such as the Changsha science and technology plan project "Research and Development of New Raised Drilling Machine for Hard Rock in Metal Mines", the Changsha major science and technology project "Research and Development of Key Technologies and Equipment for Underground Unmanned Mines", and the "Fourteenth Five-Year Plan" national key research and development project "Thin vein mining, dressing and charging, efficient and green continuous mining technology and equipment". Relying on the mature research and development system, the company has made many key technological breakthroughs, A total of 88 patents were granted, including 26 invention patents, 44 utility model patents, 12 software copyrights and 6 design patents. In order to solve the problems of high difficulty, low efficiency and high safety risk in vertical engineering construction of mining enterprises, the company has developed a series of intelligent raise rigs with a diameter of 1~7.2 meters. Among them, "CY-R120VD deep raise rig", "CY-R80V raise rig" and other intelligent raise rig products have been recognized as "the first set of major technical equipment" at the provincial and municipal levels, among which, CY-R40C cutting slot raise drill was selected in the 2021 Recommended Catalogue of Key New Products in Hunan Province for Industry and Information Technology by the Provincial Department of Industry and Information Technology, CY-R160V intelligent self-propelled large-aperture raise drill was selected in the 2022 Provincial Industrial New Products by the Provincial Department of Industry and Information Technology, and the serialized intelligent raise drill was selected in the 2022 Catalogue of 100 Advanced Applicable Equipment (Technology) in Green Mines by the Zhongguancun Green Mines Industry Alliance, It was recognized as a key recommended brand by CCTV Brand China; The "R&D of high-performance intelligent drilling rig for underground patio and cutting groove" project has reached the international leading level through the evaluation of scientific and technological achievements.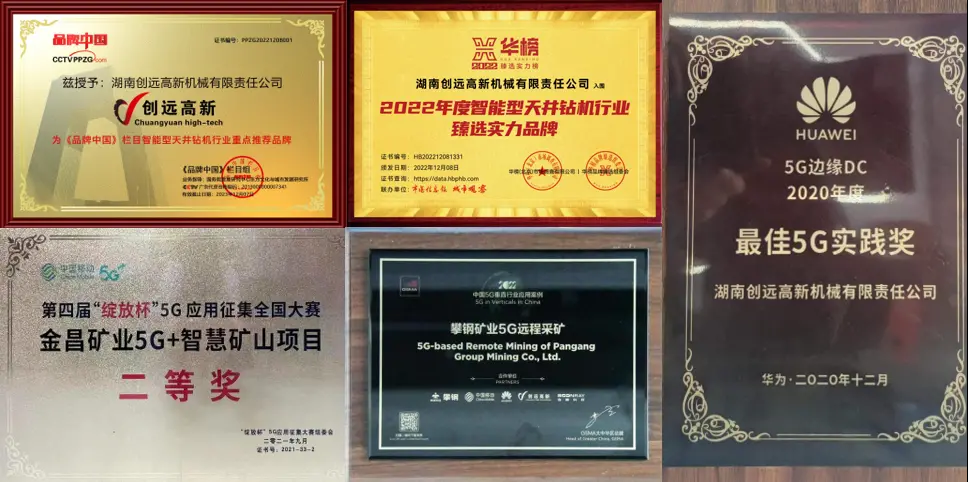 The company also cooperates with the world's top enterprises in research and construction, and jointly develops driverless intelligent technology with Bosch in Germany; Together with Huawei and China Mobile, it has built the first "5G+high altitude" open-pit mine demonstration intelligent mine in China that integrates vehicles, shovels and drills; The first fluorite mine demonstration intelligent mine in China has been successfully built in cooperation with Jinshi Resources Group; It signed a strategic cooperation agreement with Chuanheng Group to jointly build the first intelligent demonstration mine in the phosphorus chemical industry, and won Huawei's "Best 5G Practice Award", Huawei's "GTS Business Partner Award", and China Mobile's "5G Intelligent Mine Alliance Excellent Ecological Partner Award" and other honors.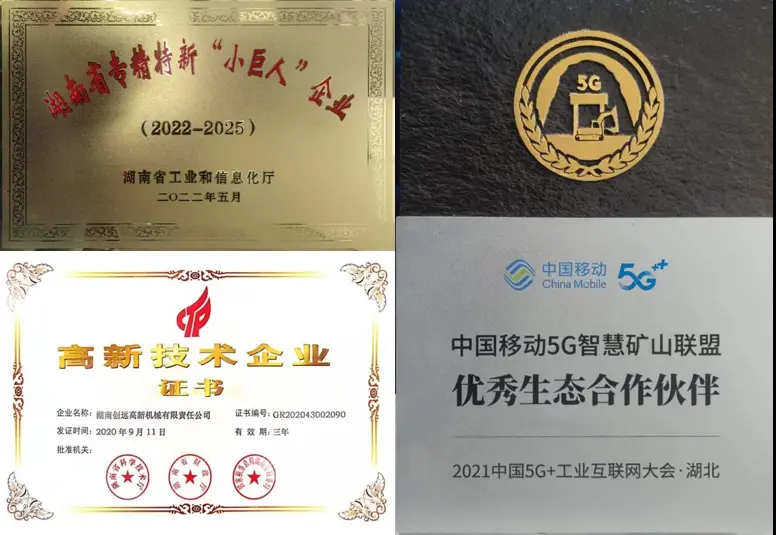 The product quality, industry-leading R&D capability and professional and reliable whole-process service have made Hunan Chuangyuan win wide acclaim in the industry and abroad. At present, the company has won national high-tech enterprises, Hunan Province specialized and special new "small giant" enterprises, Hunan Province Enterprise Technology Center, "gazelle enterprises", "cloud benchmarking enterprises", "high-end manufacturing enterprises", "industrial and information small giant enterprises" "Intelligent manufacturing pilot enterprise", "patent intensive enterprise", "small giant enterprise of scientific and technological innovation", "intelligent manufacturing pilot enterprise" and many other honors.
In order to boost the mechanized and intelligent construction of mining enterprises, Hunan Chuangyuan has pioneered multiple series of intelligent robots, independently developed the world's first CY-UMD6i intelligent underground down-the-hole drill, rock drilling robot, roughening robot, filling robot, series of intelligent raise drills and other intelligent mining equipment, and integrated high-precision positioning, 5G communication, open-hole 3D remote visualization, unmanned driving, unattended and other technologies, It provides customers with a full-plank solution for unmanned stope covering perforation, blasting and shipping, which has been widely used in many mines. The product has technical advantages such as "safe, intelligent and efficient operation, and unmanned whole scene and all links". Compared with similar products at home and abroad, the comprehensive operation efficiency is increased by more than 20%, which can effectively improve the production efficiency and environmental protection level of the mine, It can greatly reduce the safety risks of mine production and improve the working environment of workers. A single shift can reduce the number of workers by 50% to 80%, helping mining enterprises to achieve the intrinsic safety of production.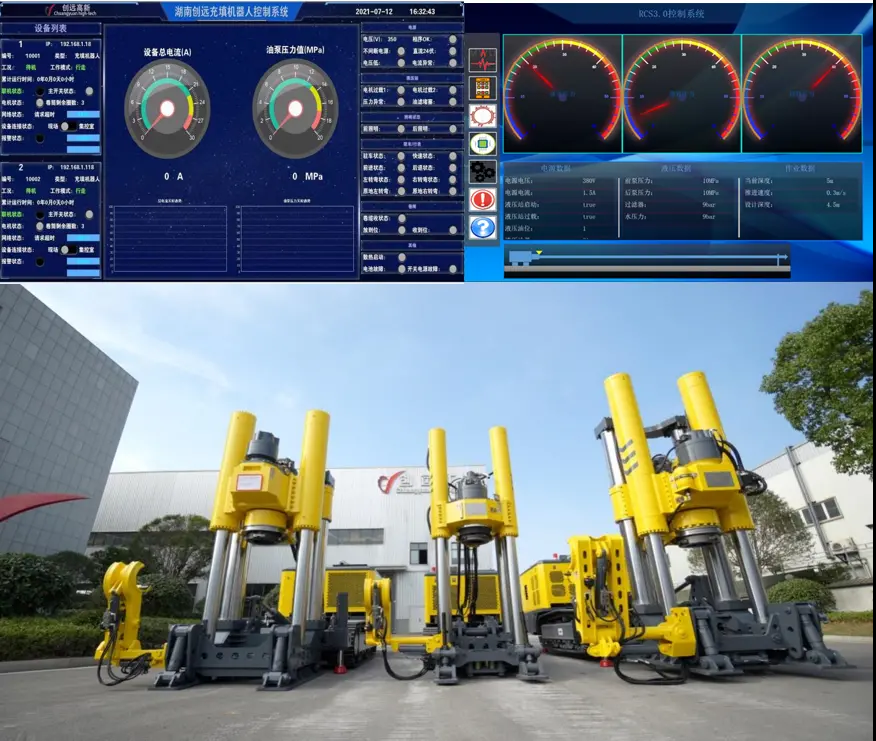 Hunan Chuangyuan has won the trust of global customers with its excellent quality and attentive service. The company's high-end intelligent mining equipment is widely used in China Minmetals Group, China Power Construction Group, Zijin Mining Group, Chinalco Group, Jiuquan Iron and Steel Group, Anshan Iron and Steel Group, Haicheng Group and other domestic leading mining enterprises, and exported to overseas countries to help customers speed up, increase efficiency and gain value-added benefits, with excellent industry reputation. For example, the comprehensive work efficiency of products that help Xinjiang customers is 6 times higher than that of similar products, the number of workers is reduced by 80%, and the operating cost is reduced by 50%; It helped Mexican customers reach 1120 meters in 10 months, and its work efficiency is superior to that of similar foreign products. Among them, the domestic market share of intelligent raise rigs has reached more than 70%. The world's first CY-R40C intelligent crawler self-propelled cutting groove raise rig has become a single source of procurement for domestic mining enterprises, and the domestic market share has reached 100%.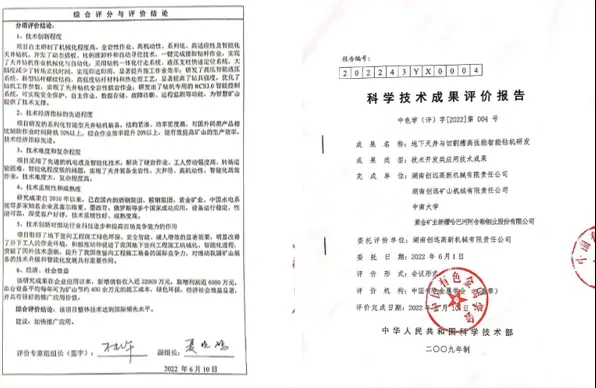 Hunan Chuangyuan integrates "specialized, refined, special and new" into the research and development of intelligent equipment. The developed series of intelligent raise rigs have the advantages of compact structure, flexible walking, all-lithology operation, green and efficient, safe and intelligent, and are necessary intelligent equipment for vertical engineering construction in the fields of underground mines, hydropower, highway and railway tunnels. The successful development of a series of intelligent raise rig products has made up for the blank of domestic intelligent underground vertical engineering construction equipment, broken through the foreign technology monopoly, changed the situation of low mechanization, low comprehensive efficiency, bad working environment and high safety risk in China's raise construction, and actively promoted and promoted the mechanization and intelligent process of China's underground vertical engineering construction, It has improved the international competitiveness of China's vertical engineering construction equipment, laid a good foundation for promoting the technical upgrading and intelligent development of China's mining equipment, gradually established the technical process system of intelligent raise equipment, played an important technical and theoretical guiding role in promoting the technical progress of China's raise rig products, and cultivated a number of high-quality talents and professional technical teams engaged in the research and development and application of high-tech in the mining industry, It has played an important technical support role in promoting the combination of production, learning and research and in forming the technological innovation team and innovation base of intelligent patio equipment in China. Through years of market verification and continuous R&D breakthroughs, Hunan Chuangyuan has become one of the leading enterprises in the field of intelligent mine equipment in China.