On November 9, a delegation led by Yang Yimin, Deputy Director of the Accident Investigation and Statistics Department of the National Bureau of Mine Safety, Zhao Enbiao, Director of the Accident Investigation Division of the Accident Investigation and Statistics Department of the National Bureau of Mine Safety, Pan Hongji, a secondary investigator of the Accident Statistics Division of the Accident Investigation and Statistics Department of the National Bureau of Mine Safety, and Zhou Gezhong, a member of the Party Leadership Group of the Hunan Bureau of the National Bureau of Mine Safety, visited Hunan Chuangyuan for investigation and guidance.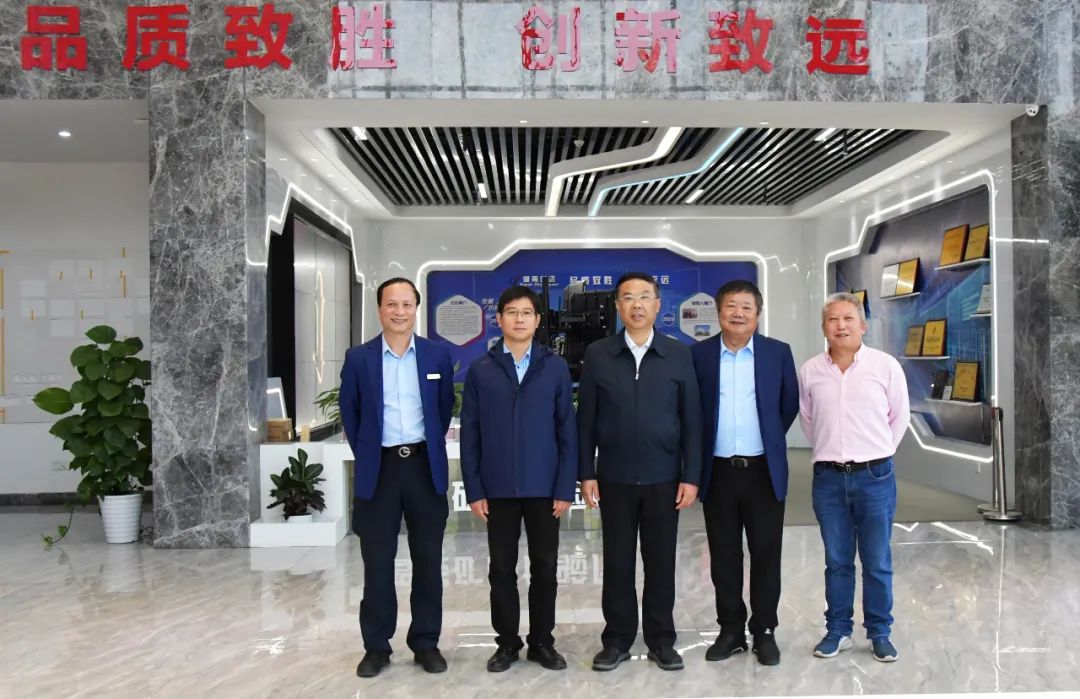 From left to right: Tang Anping, Vice President; Director Zhao Enbiao; Director Yang Yimin; Chairman Wang Yi; Pan Hongji Investigator
Wang Yi, Chairman and General Manager of Hunan Chuangyuan Hi tech Machinery Co., Ltd., Tang Anping, Deputy General Manager, Dai Jianlong, etc. accompanied Director Yang Yimin and his delegation to visit Hunan Chuangyuan Production Base, and inspected the series of shaft construction equipment and intelligent equipment for unmanned stopes independently developed by Hunan Chuangyuan.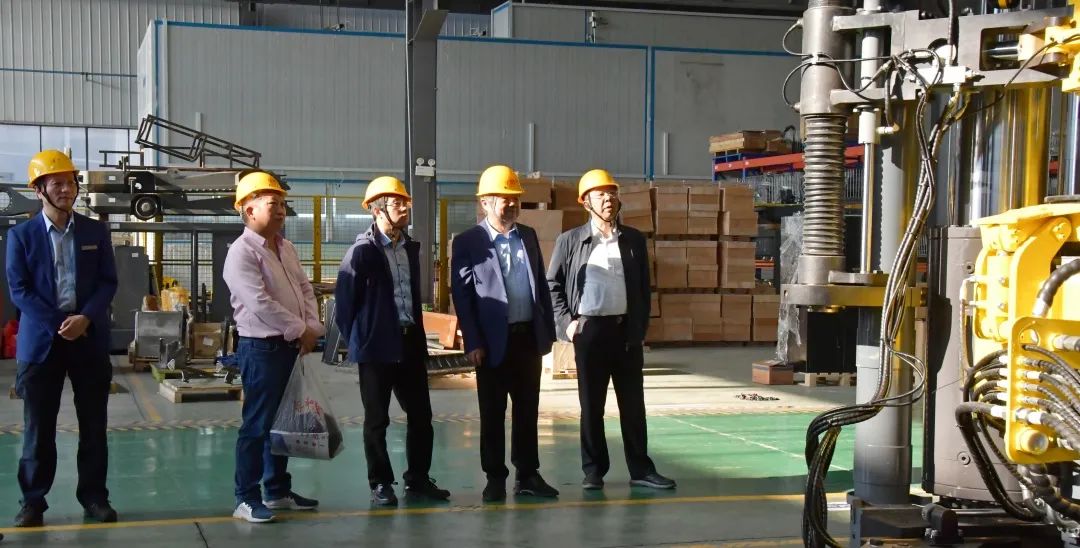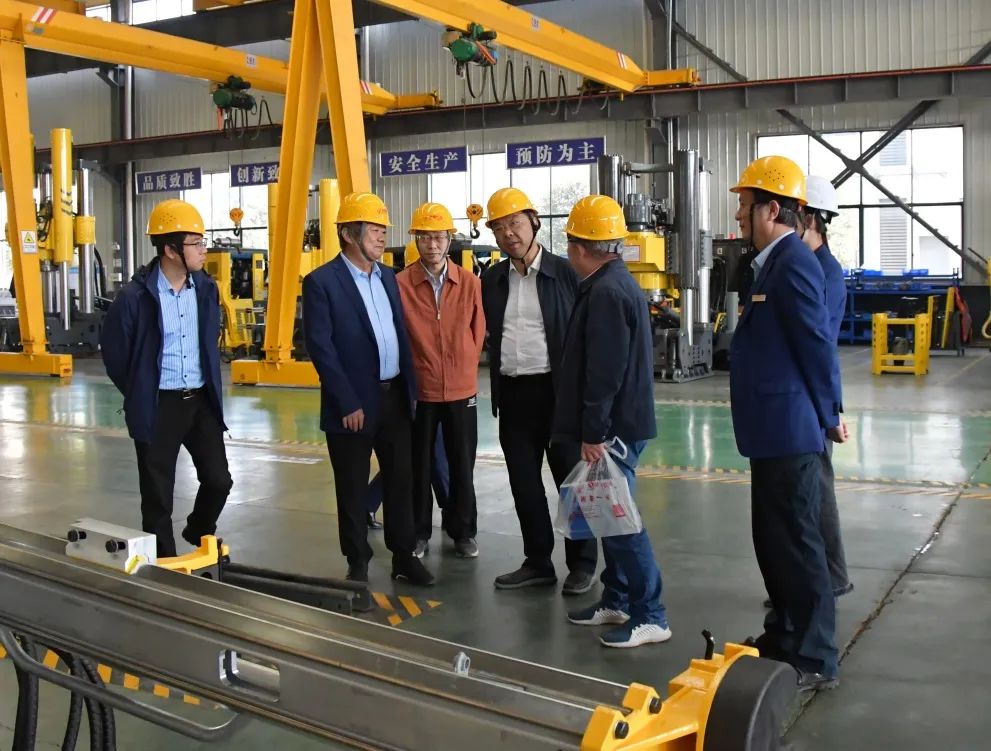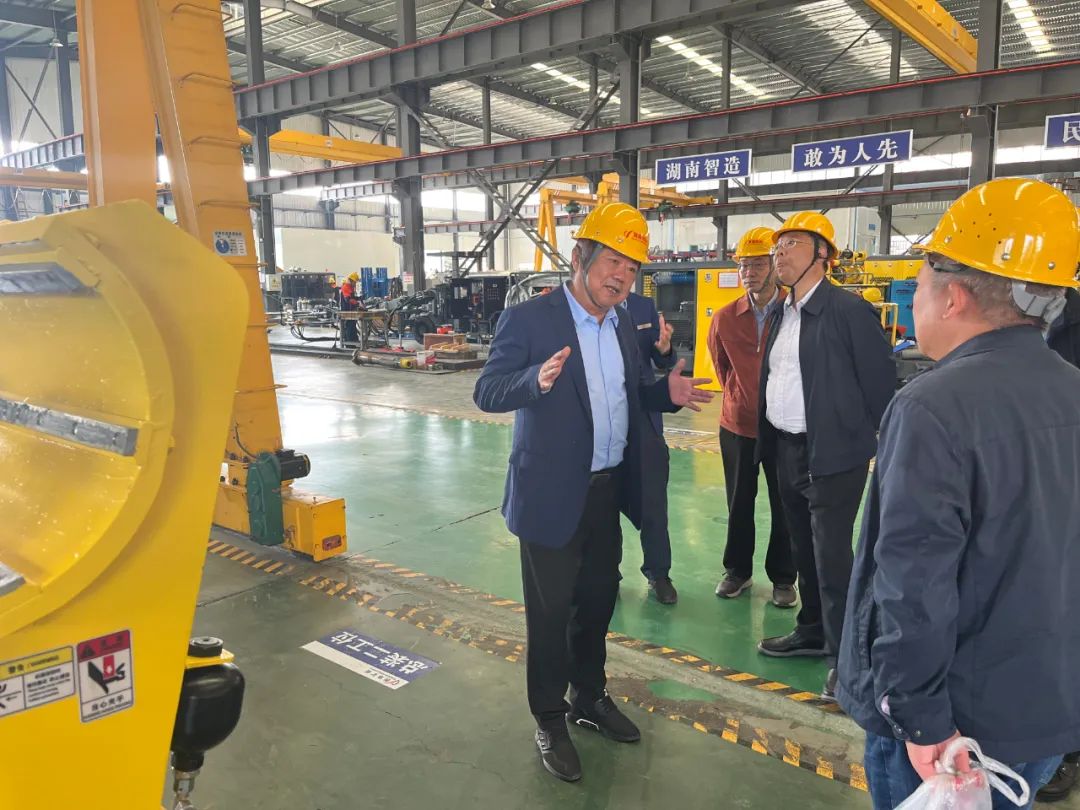 At the subsequent symposium, Chairman Wang Yi warmly welcomed Director Yang and his delegation to Hunan Chuangyuan for guidance, and focused on the use of the company's products, introduced the intelligent stopes that the company is currently building in cooperation with many industry leaders, helping mining enterprises solve the problem of pain points and reduce safety risks.
After listening to the report in detail, Director Yang Yimin fully affirmed the work of Hunan Chuangyuan and put forward guiding opinions and suggestions for the development of the company.
Director Yang Yimin proposed that at present, China's coal mine intelligence has become more mature, and will vigorously promote the intelligent construction of non coal mines in the future. He hoped that Hunan Chuangyuan could speed up the popularization and application of a full set of intelligent equipment and solutions, and give full play to its exemplary role. It is known that this year is the tenth anniversary of the founding of Hunan Chuangyuan. Director Yang Yimin said that it is a good time to sharpen the sword in ten years. After ten years of technology accumulation, Hunan Chuangyuan's complete set of intelligent equipment has become more mature in terms of storage and productization. You can apply to relevant departments for more industry catalogs to provide more and safer equipment for China's mining enterprises. It is hoped that one day, our domestic intelligent mining equipment can replace the imported intelligent mining equipment, help our own mining enterprises reduce costs and increase efficiency, and achieve intrinsic safety. Director Yang Yimin put forward suggestions for future mine safety production: he hoped Hunan Chuangyuan could consider developing our own mine emergency rescue equipment to help the mine solve safety problems; In the process of intelligent implementation, we should grasp the trend of the times, and we can consider connecting with the meta universe.
For the encouragement and expectations of leaders, Chairman Wang Yi expressed his heartfelt thanks, and said that Hunan Chuangyuan will never forget its original intention, always take "liberating miners from harsh and high-risk environments" as the enterprise mission, further accelerate the research and development and application of intelligent mining equipment and a full set of intelligent mining solutions, and provide technical support for the strategic decision of "the 14th Five Year Plan" high-quality development of the mining industry.